Immediate Dentures – Complete or Partial
An immediate denture is a complete or partial denture made out of dental acrylic. Usually, the denture will be inserted on the same day, immediately following the removal of natural teeth and can be worn while the healing takes place.
You may have been advised by your dental specialist that you have the option of immediate dentures, also known as same day dentures. The thought of going in public without any teeth is very confronting but with immediate dentures, you will never need to appear in public without teeth.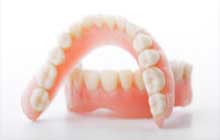 There can be many advantages of this kind of denture and the end result is very rewarding. For the dental specialist, it is also easier to duplicate the shape, colour, and arrangement of your natural teeth while some are still present in your mouth.
Do Immediate Dentures Help Support Jaw Joints and Muscles?
An immediate denture will support your jaw joint, your facial muscles and your teeth, thus minimising jaw pain. When an immediate denture is inserted at the time of extraction, it will act as a Band-Aid to protect the tissues and reduce bleeding.
Will You Be Able To Speak Clearly With Immediate Dentures?
An immediate denture will allow you to establish your speech patterns early. You will not have to learn to speak without a denture in place and then later relearn to speak with a new denture.
You will also be able to chew (something that is difficult without any teeth) and immediate dentures minimise facial distortion that may occur when teeth are removed.
Do You Need Relining or Adjustments To Immediate Dentures After Gum Tissues Heal?
After teeth are removed and the bone heals you may find the dentures become loose, so relining is recommended.  Then most people require a reline every two to three years or as you find that your mouth and bone structure changes and they are not the same perfect fit.