What is a Prosthodontist?
A prosthodontist is a general dentist who has worked for at least 2 years in general dental practice and then has completed a further 3-year full time accredited specialist training program at a university. Once completing their specialist training, some prosthodontists may decide to focus their clinical work in a particular area. This could be any of the following.
Management of Jaw Joint Dysfunction TMJ / TMD

Full Mouth Reconstruction

Crowns, Bridges and Veneers

Partial or Immediate Dentures

Custom Appliances For Excessive Bone Loss

Rehabilitation of Patients Who Have Lost Tissue From Cancer Surgery or Oral Disease

Direct Composite Restorations
Dr Florian Mack, Prosthodontist at SEQ Dental Specialist, is highly experienced at all these areas. In addition, your treatment encompasses more than just your teeth and mouth to maintain good long-term oral health, but also taking note of your general health holistically.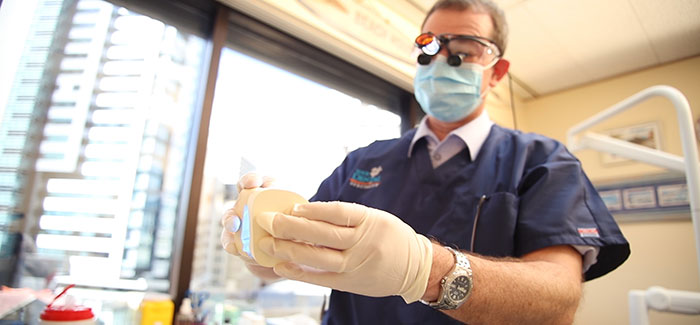 What does the term 'Prostho' mean?
The term 'prostho' means replacement, as in making of artificial replacements for missing parts of the mouth and jaw. However, a prosthodontist is a specialist that focuses on this particular type of dental care.
South East Queensland Dental Specialist treats patients with many of these conditions and we aim to give all patients the best possible treatment. You only have one set of teeth, so why not see a dental specialist in the field and keep your teeth for longer.
Why do people need to see a Prosthodontist?
People choose to see a prosthodontist because of their advanced education, training and expertise with advanced technology. You may be referred to a prosthodontist for temporomandibular disorders, dental implants, dentures, All-On-4 implants, crowns, bridges and veneers. Prosthodontists specialise in treating and handling all dental and facial problems that involve restoring missing tooth and jaw structures.
It always pays to be mindful as many dentists without advanced training or experience call themselves 'cosmetic dentists' or 'implant dentists'. If you are seeking an opinion with other dentists, ask them about their credentials and what advanced training they have had, prior to beginning any treatment.
Prosthodontists are extensively trained in state-of-the-art techniques and procedures for treating complex dental conditions and restoring optimum function and aesthetics.

How do Prosthodontists treat TMJ / TMD?
It is not uncommon to have problems with your jaw, such as TMJ (temporomandibular jaw disorder). TMJ causes pain in the side of the face, ear, neck, or shoulder, as well as a clicking sound or stiffness when you open and close your mouth.
For patients with TMD/TMJ a thorough examination is first conducted. Impressions are taken to for occlusal splint therapy and treatment plan addressed. Because the disc has been displaced out of position for many years, splints and bite adjustment is a gradual process.
The first stage of treatment is Occlusal Splint Therapy
A prosthodontists will assess your jaw and bite then design a fully protective occlusal splint. These splints focus on the bite and is a key process giving patients a starting point. This requires monitoring and a few adjustments as your bite changes and regulates to its new home position. This is the best treatment for the relief of TMJ symptoms and treatment for the TMJ disorder (TMD) and seeing a prosthodontist is your best option.

What is the difference between a General Dentist and a Prosthodontist?
A general dentist is educated to do simple procedures such as immediate dentures, and single crowns up to 3 per jaw or a small 3-unit bridge. Wherever there is an increase in vertical dimension, height of teeth or change in occlusion or more than 3 crowns per jaw, a prosthodontist should be consulted.
General dentists can perform dental prostheses treatments but, they do not have the additional 3 years of training and so are not registered as a specialist in this field. Because prosthodontists have additional training in the more invasive dental procedures like dental implants or dentures, they are able to determine the right dental implant, and the best fitting option of dentures to provide long-term success.
Cases that are difficult require the work of a prosthodontist to ensure that any complicated bite issues are addressed correctly. Prosthodontists are equipped with the knowledge and skills needed to identify and manage a broader range of dental complications and more complex cases.

How do I know if I need to see a General Dentist or Prosthodontist?
That's a good question.
The loss of your natural teeth can sometimes be a very invasive dental procedure, and whether you are an anxious patient or accomplished receiver of treatment, it is important to know your options to be able to make an educated and informed decision that will deliver the best outcome for your health and well-being.
Before committing to any permanent and expensive dental procedures, that's most times irreversible, ask if your general dentist has had all the in-depth training required, and how many times they have carried out the procedure. The number of years working as a general dentist doesn't necessarily mean the same number of years performing that specialist procedure.
In many complex cases the prosthodontist and general dentist will work together with patients to give the best outcome for the patient. In most cases, the higher level and difficult procedures like crowns, bridges and veneers or partial and immediate dentures is typically a specialist that has the greatest focus on this area of dental care. As a lot of times there are you have multiple issues affecting your oral health and other associated factors that need managing.
Dr Florian Mack, Prosthodontist at SEQ Dental Specialist, is highly experienced at all these areas. In addition, your treatment encompasses more than just your teeth and mouth to maintain good long-term oral health, but also taking note of your general health holistically.

If you would like to know more please give us a call 07 3221 0443 or Contact Us and we will arrange a consultation at your convenience. Dr. Florian Mack looks forward to having the opportunity to speak with you in our Brisbane City practice or Southport on the Gold Coast.